Established in 1788 as a poultry business, Toriyasa now has 7 private rooms where diners are served a thick soup made from chicken that has simmered over three days; quail eggs are combined to give it substance. Chicken, yuba and local vegetables are added, and it is served with ponzu. Finally, the soup is used to make a refreshing, full-bodied zosui, bringing together the flavours. In summer enjoy the open tatami veranda.
– Michelin Guide
Kyoto has the best Japanese food. Had the best chicken in my life at this Michelin one star restaurant in Kyoto.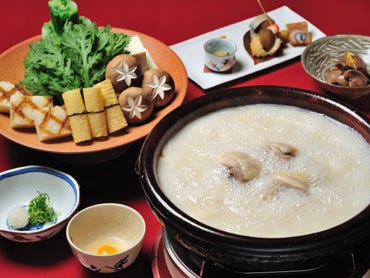 We had our dinner in the first week of 2018. Hence, we had Osechi Ryori (御節料理) as starter.
Best egg rolls
Fresh vegetables, tofu, mushrooms, beancurd rolls and mochi
Best chicken soup with chicken in it (cooked for 3 days)
Many ways of enjoying the soup. One of them is to add ponzu into the soup. Other ways include drinking as it is, with egg and with rice.
At the end of the course, rice will be cooked with the soup

Photo Credit: Miyu Ishikawa 
Best warabimochi I have ever tried
This restaurant is over 200 years old. A great way to enjoy the history of Japan. Book the private room to enjoy Kyoto tradition.
Great Japanese hospitality (omotenashi). Throughout the course, the staff will be cooking all the food and serving them to guests. They also advise on how to enjoy the food (What sauce to use for each item).
Kyoto is my favourite city with all the good Japanese food. I prefer delicate taste. I would recommend to take the course, ¥ 13,000 (tax included) for each person.
Checkout the restaurant details below and make reservation.
https://r.gnavi.co.jp/kakg600/
Till then…